Structure for your Project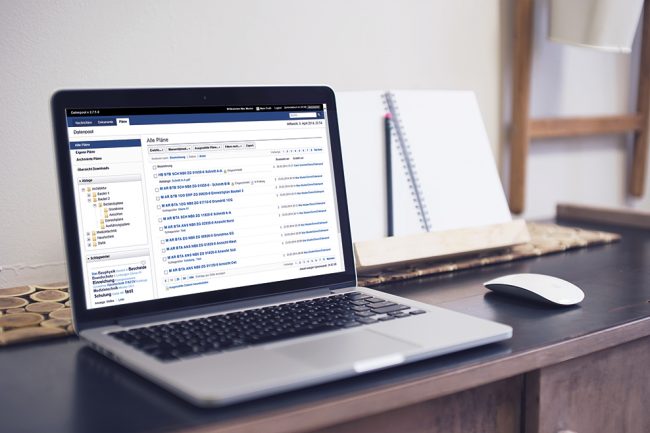 With a sophisticated filing system for documents, plans, and BIM models, the Datenpool provides a clear framework for storing files, no matter what file formats are used. In combination with key wording and user-related specifications, this results in a degree of flexibility that leaves nothing to be desired. The surface of the Datenpool is clearly structured and follows a simple and intuitive logic that can be immediately comprehended. This results in a short training period and little effort with regard to the training of the project team.   MerkenMerken

CLEAR TASK DISTRIBUTION
Pre-defined processes allow a clear distribution of responsibilities and create a structure that keeps all users involved up-to-date at all times. The obligation to provide information is clearly met as soon as documents have been stored and distributed in the system. Additionally, you have the assurance that all participants in the Datenpool have been validly informed. As a result, affected project participants proactively inform themselves about the status of the project and retrieve up-to-date information. This brings clarity and transparency into the everyday project life of users and reduces the potential for conflict.

USER-SPECIFIC REQUIREMENTS
For each user in the Datenpool, it can be individually determined which documents are available and in which filing folders documents and plans may be stored. This reduces the complexity of the project and prevents errors in the creation and storage of documents and plans. The scope of functions required can already be defined and assigned to the user when a new account is created.

PERSONAL TAG CLOUD
In addition to general key wording, you have the option of assigning your own keywords for each document. These personal post-its are not visible to other users and allow you to individually organise the project in a way that you like. Your personal keywords will be displayed in your own tag cloud and will bring you to the documents you are looking for in one click.

INDIVIDUAL FILING SYSTEM
Depending on the scope and complexity of the project, the filing system can be customized to your requirements. For projects with integrated planning in 3D, a separate tab for storing BIM models is available; the number and name of the filing folder can be freely selected. Furthermore, it can be individually determined which persons in the project team have the right to create and manage new filing folders.