With the help of the BIM viewer a user can manage their BIM models as well as view them online without needing an own AutoDesk account.

By going to https://bim.datenpool.at and logging in with their Datenpool account a user can manage and view their BIM models.
Project and model selection
By clicking on the dropdown menus provided in the navigation bar it's possible to easily switch between projects and/or BIM models.

When navigating to the models page, only the project selection is visible. Whereas, when navigating to the viewer page, both projects and BIM models can be selected.
BIM model management
As the name suggests, the purpose of this page is to upload BIM models that have been approved in the Datenpool to the cloud and convert them. Only models that have been uploaded and converted can be selected for the BIM viewer.

Upload a BIM model to the cloud
This process consists of two steps — upload a file and convert it. Once the former has been confirmed and started, a corresponding progress bar is displayed.

In that step the BIM model approved in the Datenpool is being uploaded to the AutoDesk cloud.
Convert a BIM model
If the BIM model has been successfully uploaded to the cloud, the convertion process begins. During that process the progress bar changes its color.

Depending on the size of the BIM model this process can take up to a few minutes. That is due to the uploaded model being converted to a format the BIM viewer can display.
Continue the conversion process
If an error occurs while converting a BIM model (due to e.g. connection problems, server errors, …) a "Continue" button is shown that enables the user to continue the conversion process.

BIM Viewer
Using the dropdown menus in the navigation bar a user can select a project and/or BIM model.

After selecting a BIM model and clicking on the "Open in viewer" button, the selected model is loaded directly into the browser.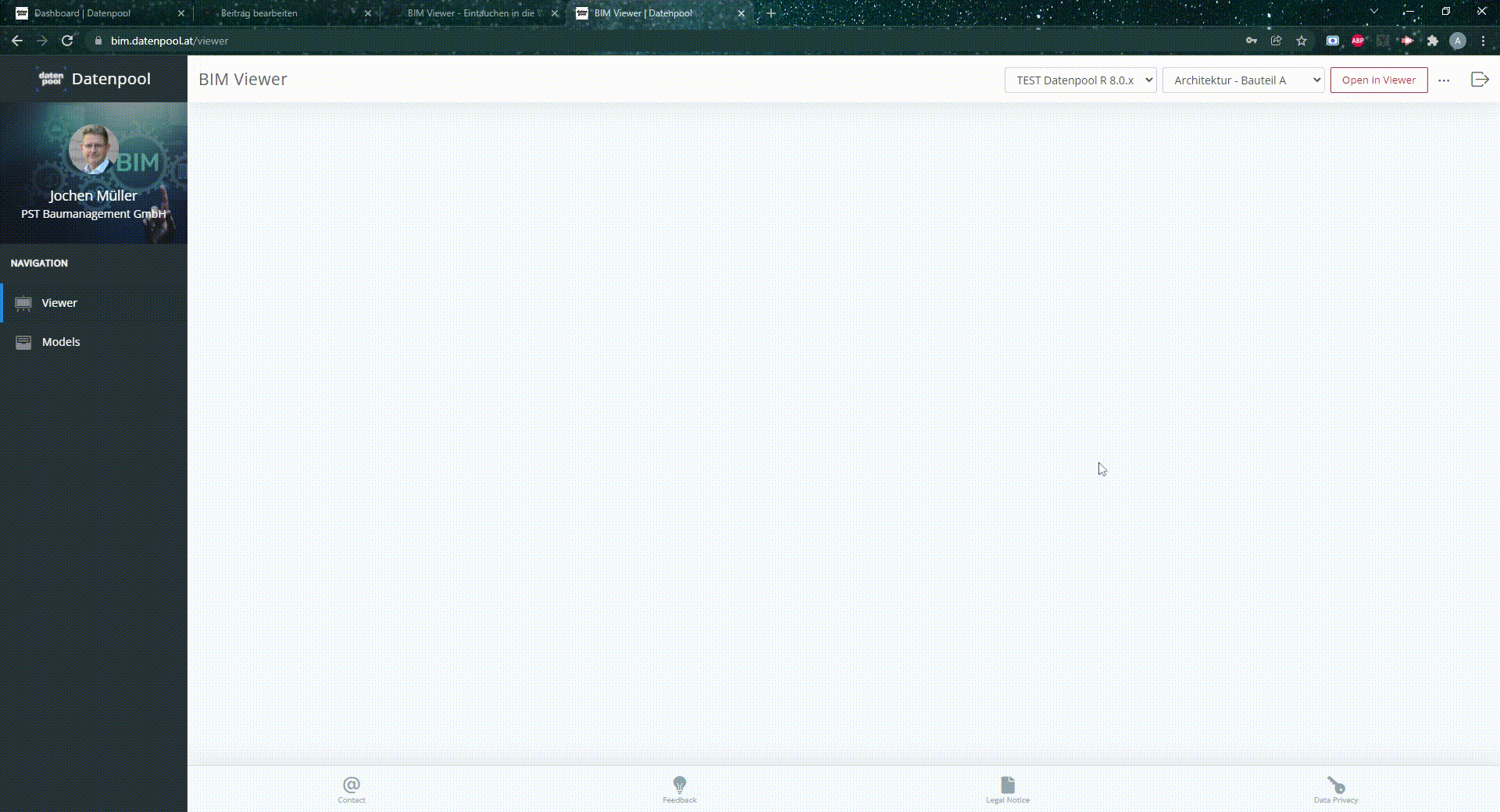 Once a BIM model has been loaded in the viewer, the description of the button changes accordingly to "Add to viewer". That means it is possible to add multiple models to the viewer and view them simultaneously.
Important: That option is only available for the selected project. Should a user change the project then the viewer will be closed and needs to be restarted.
Single sign-on
As logging into multiple websites can be a bit of a hassle, we've adapted the authentication process by combining the already existing website https://dashboard.datenpool.at with the newly created https://bim.datenpool.at site. That means that it's necessary to only log into one of those two sites to be automatically logged in in the other.
However, this functionality is only available to the current web browser and does not span across multiple browsers.