Upload BIM models to the cloud and view them in your web browser without the use of external tools or accounts. Find that and much more in the latest Datenpool version.

CHANGES/ EXTENSIONS
---
Introducing a new module – BIM models
Version 8.0.0 introduces a whole new module, namely the BIM models. Similar to documents and plans, BIM models can be created, edited and approved. There are a few differences, though, as you'll find out in the following sections.
One BIM model per folder
An essential difference is the limitation of one BIM model per folder. Once a BIM model has been created in a particular folder, that folder cannot be selected any longer.
Additionally, each subsequent version of a BIM model is put in the same folder without an option to change it.
Constraint regarding uploaded attachments
In order to ensure that only technically viable file types are uploaded to the cloud, a BIM model's configuration can be used to determine what kind of file types and how many of each can be uploaded.
An example thereof: Only files of type IFC can be uploaded with a maximum of 3 files.
Approval and upload to the cloud
Once a BIM model has been sent into review and approved, it becomes eligible for being uploaded to the cloud. It is important to mention here that only (potential) approvers of a workflow possess this right. Furthermore, the BIM model needs to have been approved; a conditional approval is not sufficent.
The upload to the cloud takes place on a different website, see https://bim.datenpool.at for more details.
You can find out more about the BIM viewer in its release post.
Expansion of folder administration
In the wake of the BIM model introduction several parts of the Datenpool were adapted or newly added.
One example of that is the folder administration that was enhanced by the addition of a module for BIM models. The functionality already used for documents and plans applies here as well.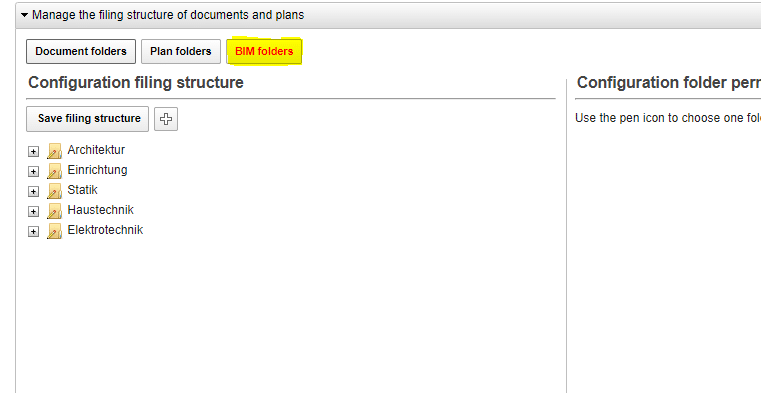 New categorization option – milestones
Another new feature are the so-called milestones, which together with tags and post-its represent different categorization options. Milestones, however, are exclusive to BIM models.
Milestones represent the different construction phases, such as design, filing or implementation.

New view – BIM models incl. all versions
As the name suggests, this view displays a list of all BIM models incl. all of their versions. As different versions can have varying milestones, this view focuses on filtering by milestones rather than version number.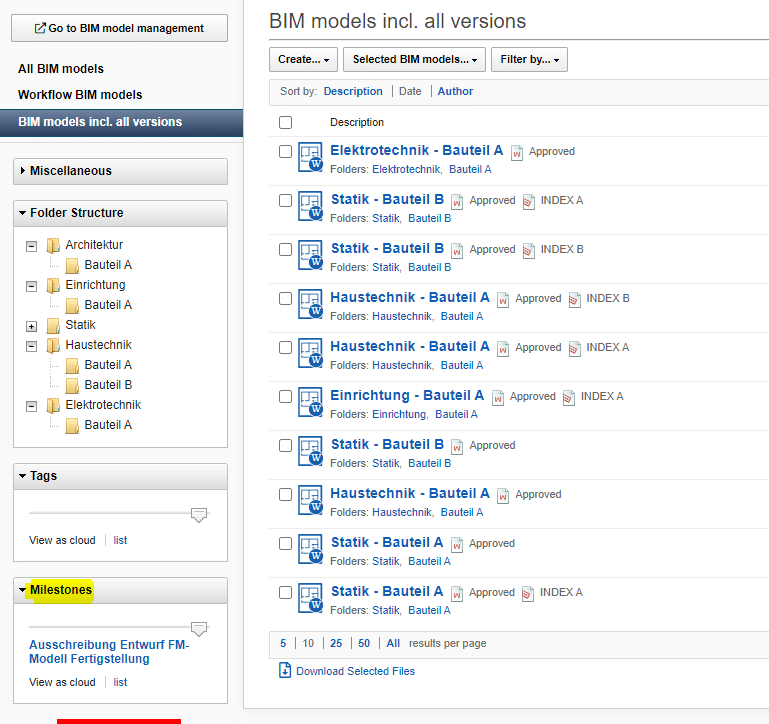 Computed document description
To ensure a standardized naming convention, a BIM model's description is automatically computed based on the selected folders, e.g.
If a user selects the folders Haustechnik / Bauteil A the description will be computed as Haustechnik – Bauteil A.
Option to set BIM models as homepage
The BIM models page can be used as the homepage after logging in. That can be accomplished by going to the profile settings and selecting BIM models.
---
BUG FIXES
Documents without selected folders cannot be saved any longer